Sash Windows Mansfield
Sash windows add a f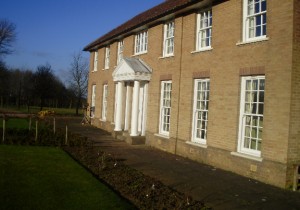 antastic element of history and charm to old buildings, and Gascoyne Joinery have been fitting them to peoples homes in Mansfield for over 20 years.
These great windows are antiques in their very own right and offer many advantages to your home. They are better suited to the mainly wet British climate due to the fact they can be closed down to a narrow gap, which allows good ventilation and air flow, without letting rain come in. They can also be fitted with hidden draught seals to enhance the performance of the window and stop draughts.
They are also much less susceptible to distortion and rot as they are contained within a box, which greatly adds to their lifespan.
We manufacture to match existing frames exactly and also to comply with Local authority conditions on Listed Buildings, so you can be sure you're getting quality sash windows.
For more information and a free quotation on Sash Windows, call Gascoyne Joinery today on 01623 655 711 or get in touch via our contact form.