Orangeries East Midlands
Gascoyne Joinery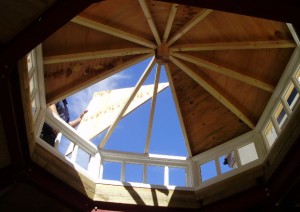 have been serving the people of the East Midlands with orangeries for over 20 years now and we continue to do so leaving many happy customers to relax in their stylish new extension, which often goes on to become the most used room of the house.
The history of the orangery dates back to when the more affluent in society would use them to house citrus fruits such as oranges throughout the cold European winters, before they were readily available in supermarkets and greengrocers.
In modern life however they serve a different purpose, or, a whole range of purposes! Now acting as a fantastic, stylish extension to the home, orangeries characteristics of being bright, spacious and airy make them the perfect place for anything from relaxtion to entertaining friends, and we have built them for all purposes around the East Midlands.
Every orangery is completely unique and bespoke, but we are ready to meet every size, shape and challenge, all of our orangeries are built 100% in house in our own workshop, meaning that we can keep full control of the work, and keep the costs down for you.
So, if you're looking for an orangery anwhere in the East Midlands, be it Derby, Mansfield, Nottingham, or anywhere else, please get in touch with the Gascoyne Joinery team today on 01623 655 711.