Bi Fold Doors Huthwaite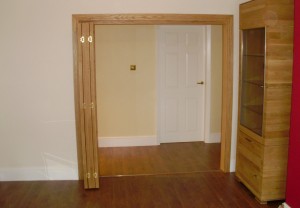 Unlike the more traditional swinging doors, Bi Fold Doors are generally larger and, as is suggested in the name, they slide and fold open, rather than swing.
Ideal for use both internally and externally,they can be used to either separate two rooms, open them up into one large space, or to open up a side of your house to the garden on the warm summer days. These doors are always growing in popularity, and demand is growing for Bi Fold Doors In Huthwaite and the surrounding Nottinghamshire and Midlands areas.
The Gascoyne Joinery team are widely acknowledged as one of the best bi fold doors manufacturers in Huthwaite and the whole Nottinghamshire area and can provide the very latest, stylish systems in fully opening bi fold doors, all of which are made in house, offering a range of sizes reaching up  to 15 metres wide and 3 metres high.
Constructed from strong and durable hardwood or accoya, and fitted with draught seals all around, which makes them probably the most secure and energy efficient type of doors available.
For more information on Bi Fold doors in Huthwaite and surrounding areas such as Mansfield, Derby and Sutton In Ashfield, get in touch with the Gascoyne Joinery team today on 01623 655 711 or via our contact form and see what we can do for you with a free quotation.